Reviews are from Amazon.
Spotlight Pick:

Elevation
Stephen King
The first thing to note about Stephen King's Elevation is that it is a short book—small and short. This being an online store, it is useful to point out that it will not land on your doorstep with the thud of a typical Stephen King novel. The second thing to note is that it is a fun and surprisingly moving read. When we first meet Scott Carey, he is knocking on the door of a doctor's condo. Carey discloses to the doctor that he is experiencing a unique condition: he is losing weight but not mass. Every day he is a little lighter and no one can tell the difference. When the doctor points out that this is likely not a condition treatable by modern medicine, Carey appears to concur. So if he is possibly running out of time, what's next? Scott Carey opts to conduct his life with honor and conviction, and to make the world a better place. Set in King's fictional town of Castle Rock, Maine, the book has very little of the classic King darkness—and it has the feel of a parable. The lesson is that we might actually all be able to get along. Could it be as easy as giving up a little bit of ourselves each day? –Chris Schluep, Amazon Book Review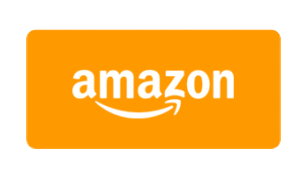 ---
Featured Debut: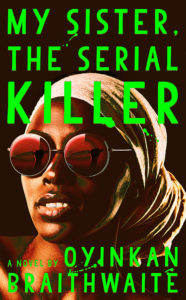 My Sister the Serial Killer
Oyinkan Braithwaite
Ayoola is the merriest murderer you ever did see. Young and beautiful, the favorite child, she's on the phone to her older sister when My Sister, The Serial Killer opens, asking her to come quick. She's just killed her boyfriend and needs help clearing the scene. It's not the first time one of Ayoola's boyfriends has met the business end of her blade, either. Older sister Korede, plain and overlooked, has drawn on her nursing training to clean up after two other hapless beaux. Who better to make blood disappear? And so far, Korede's objections have been centered on classification ("Femi makes three, you know. Three and they label you a serial killer") rather than say, morality. As she says of her sister: "She needs me more than I need untainted hands." But when the object of Korede's desire, a doctor at the Lagos hospital where she works, becomes trapped in Ayoola's web, fraternal loyalty collides with sibling rivalry, and one of these women is deadly with a knife. Darkly comic is a powerful understatement here; this short debut packs a brutal punch, crackling with glee and sly humor. Pages never turned so fast. —Vannessa Cronin
"The wittiest and most fun murder party you've ever been invited to."–MARIE CLAIRE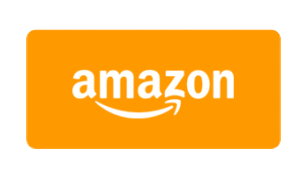 ---
---

Wolves of Eden
Kevin McCarthy
Kevin McCarthy's Wolves of Eden is a riveting fusion of mystery, historical fiction, and western. The setting is post-Civil War in the Dakota Territory, where the U.S. Army has established forts and its soldiers' time is mostly spent fighting the Native Americans whose land they keep poaching. McCarthy's characters come alive on the page, particularly his narrators: the long-suffering and quite clever Corporal Daniel Kohn, and Irish immigrant Michael O'Driscoll who, along with his brother Thomas, re-joined the army when they ran out of options. After a politically connected brothel owner and his wife are murdered outside Fort Phil Kearney, Corporal Kohn, along with his superior, a drunk Lieutenant named Molloy, are sent to find the killer—or at least "a neck for the noose" to appease their bosses in Washington. When the story begins, O'Driscoll is being held prisoner for the crime, and his narrative of events at the fort is told in a unique, endearing voice. McCarthy's novel made me laugh, cry, and cringe, while my heart swelled with affection for the O'Driscoll brothers, Corporal Kohn, and even the flawed Lieutenant. The hideousness of war, bonds of soldiers and brothers, and a crime no one really wants solved, pulled me headlong into a story I couldn't wait to share. –Seira Wilson, Amazon Book Review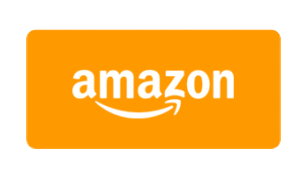 ---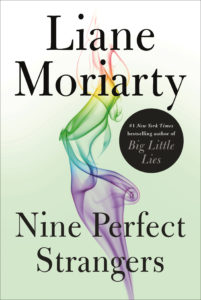 Nine Perfect Strangers
Liane Moriarty
Liane Moriarty is back with another delicious page-turner, but this time her characters don't discover their lives unexpectedly transformed by a surprising event—they deliberately buy into a ten-day spa package with the hope that they will emerge different, happier people. A few days of silence, lots of yoga and mindfulness, and absolutely no alcohol seem to be working wonders, at least for middle-aged novelist Frances Welty, who is recovering from an online swindle and a career crash. The other eight participants have astonishingly similar positive reactions to their regimen at Tranquillum House…at least until they discover why. Moriarty is at her best when she's diving impetuously into her characters' heads, exposing with affection their rushes to judgment, their contradictions, and their moments of grace and generosity. The "aha" moment that has won Moriarty so many fans with Big Little Lies and Truly Madly Guilty never quite materializes, and some readers might roll their eyes at the multitude of chapters at the end that attempt to tie everything up nicely. But in the end, it's an optimistic novel, showcasing how our shared flawed humanity is also our greatest strength in the face of duress, as long as we can create common ground. —Adrian Liang, Amazon Book Review
"Promises to be a lively page-turner." ―Vogue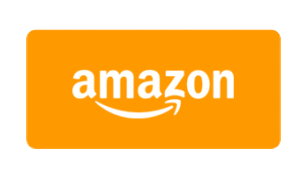 ---
---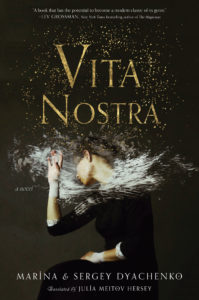 Vita Nostra
Sergey and Marina Dyachenko
If Hogwarts was in Russia instead of Great Britain, if failing your O.W.L. exam meant death to family members, and if learning how to bend reality might deform your brain and physical body…well, Harry Potter wouldn't make it past year one. Vita Nostra, a Russian urban fantasy novel, audaciously expands the concept of magic and philosophy well past their current comfortable doctrines. The strenuous, stressful lessons that Sasha Samokhina assimilates at the Institute of Special Technologies forces Sasha and her classmates to rethink their assumptions and break past mental barriers—even when the barrier is simply identifying as human. Reading Vita Nostra exposes just how complacent novels about magic have become as they evoke the tried-and-true magical systems based on inherited abilities, willpower, or enchanted items. As Sasha expands her vision of the world, so, too, the reader's vision of fantasy literature expands. Vita Nostra's ending doesn't have the tidy satisfaction I expect…but perhaps that reveals how pigeonholed some of my own reading expectations continue to be. —Adrian Liang, Amazon Book Review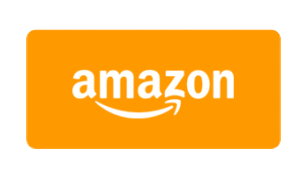 ---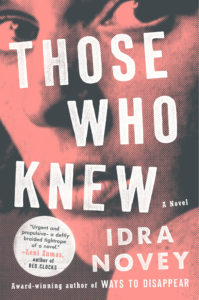 Those Who Knew
Idra Novey
When a senator's aide is literally hit by a bus, Lena is suspicious. Years ago, she was smitten with the same politician, back when they were both young activists fighting the repressive regime of an unnamed island country—but a sudden act of violence brought their budding romance to an unceremonious end. Is he responsible for the aide's death as well? And is Lena complicit after staying silent about what he did to her? Idra Novey's Those Who Knew has a ripped-from-the-headlines quality, and despite the fact that you'll likely be able to guess the ending as easily as a Law & Order episode, she does a deft job of mining the payoffs, and pitfalls, of speaking truth to power. A timely, insightful, and satisfying read. —Erin Kodicek, Amazon Book Review
"Read this now, because everyone you know will be talking about it by early 2019." –Washington Post
From the award-winning author of Ways to Disappear, a taut, timely novel about what a powerful politician thinks he can get away with and the group of misfits who finally bring him down.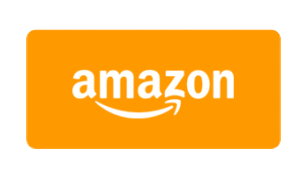 ---
Beastie Boys Book
Michael Diamond
Guys, the Beastie Boys wrote a book (or maybe conjured is a better word), and it's a piece of work. Michael Diamond and Adam Horovitz, otherwise known as Mike D and Ad-Rock, present Beastie Boys Book, a rambling and unruly stream-of-consciousness trip through more than three decades of uncensored memories—records, rashes, tours, graphic novels, and playlists. Madonna's here, as is Guns N' Roses, Dolly Parton, Johnny Ryall and the Egg Man. Illustrated with dozens or possibly hundreds of pictures, we get relive their earliest shows, go behind the scenes of their short-lived magazine, Grand Royal (which mainstreamed the Mullet, the business-in-front/party-in-the-back "hairstyle"), and relive pickup basketball games between sets at Lollapalooza, in which Smashing Pumpkins' Billy Corgan dunks savagely against type. Lest you think this is frivolous, disreputable stuff, Amy Poehler, Wes Anderson, Jonathan Lethem, and National Book Award- and Pulitzer Prize-winner Colson Whitehead stop by with their own contributions. Beastie Boys Book is uncountable things, but overall it's a box full of love letters to fans, founding member Adam Yauch (who passed away in 2012), the early days of hip-hop, and dirty old New York. It's a book that can't, won't stop giving. —Jon Foro, Amazon Book Review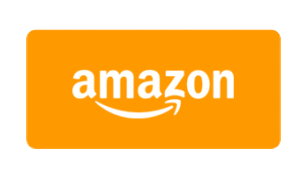 ---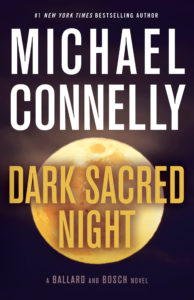 Dark Sacred Night
Michael Connelly
Twenty books in, finding new ways to keep a long-running series fresh must be tough. Michael Connelly solves this perfectly in Dark Sacred Night by teaming Harry Bosch with Detective Renée Ballard from last year's series debut, The Late Show. The new partners meet cute, professionally speaking, when Ballard, still working the night beat (aka "the late show"), catches Bosch rifling through file cabinets at Hollywood Station. The cold case that Bosch is digging into involves a young runaway, and the case triggers Ballard's empathy as well as her uncanny investigative instincts. Connelly does a masterful job of threading the needle with Ballard and Bosch's "hobby case" as well as Ballard's day to day caseload, allowing the fledging partnership and the cold case to build slowly while keeping the action constant. Nobody greases a plot with procedural details better than Connelly, but here, he also uses the mundane personal details of a cop's life to good effect. When the cold case plot finally comes to a head, Ballard and Bosch, opposites in almost every regard, work together to "take a killer off the board." Los Angeles has a new speaker for the dead and that is good news indeed for Connelly fans. —Vannessa Cronin
"Dark Sacred Night is one of the best and most affecting Bosch novels since Mr. Connelly began the saga in 1992, underscoring the growing and unsettling ambiguity surrounding its central character."―Tom Nolan, Wall Street Journal
"It was only last year that Connelly introduced Ballard, a fierce and fascinating new protagonist who instantly emerged as a reader favorite. Bosch, meanwhile, is a grizzled veteran by now; Dark Sacred Night marks the 21st novel to center on him. But fans always finish eager to come back for more."―David Canfield, Entertainment Weekly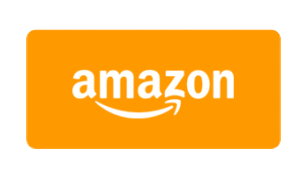 ---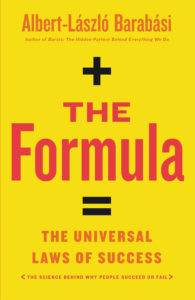 The Formula: The Universal Laws of Success
Albert-László Barabási 
Did you ever wish you could break down the secret of success to a mathematical equation? It will never be that simple, but Albert-László Barabási's The Formula makes a case. This is not your run-of-the-mill self-help book for seekers of self-confidence and self-esteem. Barabási— the author of several books including Bursts: The Hidden Pattern Behind Everything We Do and Linked: The New Science of Networks—coalesces scientific and mathematical principles into Five Laws of Success, illustrating them with Gladwellian examples to demonstrate that achievement and performance, while crucial, don't necessarily lead to desired outcomes for teams and individuals. The Formula is required reading for anyone building organizations or just curious about the unseen mechanisms that propel a select few to the highest levels. —Jon Foro, Amazon Book Review
"Will indelibly transform the way we all think about success." — Alex Pentland, Toshiba Professor at MIT and author of Social Physics
---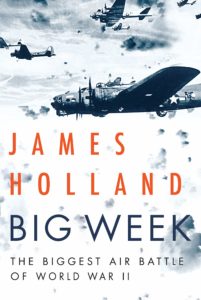 Big Week
James Holland
In February of 1944, the Allies launched an air offensive against Germany designed to destroy factories and draw the Luftwaffe into a battle of attrition. Dubbed Operation ARGUMENT, the biggest air battle of WWII had a hidden agenda: to soften up German air power in preparation for D-Day later in the summer. The battle was also known as "Big Week," and James Holland's book of the same name is a top-rate World War II book, one that describes the big movements and tactical decisions at the same time that it sweeps us into the action and explores the exploits of characters on both sides. Even Jimmy Stewart appears in this book. This is a well-researched and extremely well executed historical read. –Chris Schluep, Amazon Book Review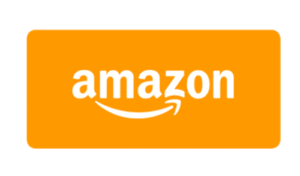 ---
---
Find a Find?
Download Our Free App & Save it to your Smart TBR List