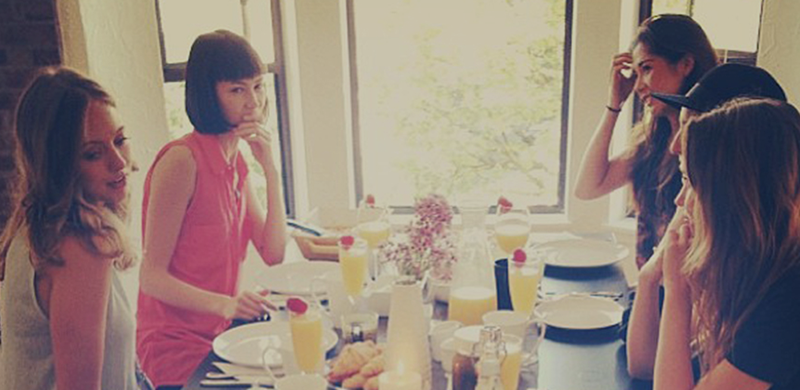 Are you having trouble picking a great name for your book club?
I've got a couple fallback formulas you can use plus I keep a running list of great book club names from our BookMovement member clubs.  These names are just from the November list of events & I check every day–so add your next book club meeting see if you're on the list!
How to Edit Your Book Club Name
In the  App, Go to your club settings to edit your book club name & tap save.
On the website, go to the club info tab on your club page, click edit, rename the club & click save.
Good Start Formulas
   "The (name of city/town) + (number of members)  —"The Oldwick 7"
Name of Town + Literary Guild
Local Landmark + Number/ladies/etc.
Name of town + Bookies–"Oldwick Bookies"
 Name of Town + How you know each other (co-workers, moms, neighbors, church) —"Oldwick moms"
Great Book Club Names:
Gangster Grandmas Book Club
The Red Stiletto Book Club
Club de Lectura de los Dragones
The Pessoptimists
Better Read Than Dead
Reading Between the Spines
Prose Before Bros
Prose Before Hoes
Mighty Erudite's Bookclub
Nacho Mamas
Tenacious Bookies
It's a Hardback Life
---
Fun Puns
Overbooked
You Can't Put Us Down
Lit Fit
---
For the Love of Us
Rare Gems Literary Society
Girlfriend Army
The Dangerous Readers Book Club
The Peaceful Readers Book Club
Great Tales, Females & Cocktails Book Club
Minutes of Gold Society
B*tches, Balls and Books [Founder's note: Gym teachers?]
Babes in Bookland
Bad Girls Reading Bad Books
Badass B*tches Who Read and One Who Doesn't
Badass Book Club
Nerd Herd
Besties Book Club
Book Bubbies
Mighty Erudite's Bookclub
Dangerous Creatures Book Club
Sweet Connections
---
On the Map
Guilderland Goddesses
---
 It's the Genre that Counts
Clueless Mysteries Book Club
Perfictionists
A Novel Idea
---
What are We Drinking
Mimosas, Metaphors & Melodrama
Waiting for Merlot
Boobs, Books & Bordeaux
Orange Crush Princesses
The Wine Club with a Reading Problem
Reading Between the Wines
Drinking Club with a Reading Problem
Lit-N-Latte
Boozy Book Club
Just a Splash
Wines & Spines
---
For the Love of Books
Between the Covers
We Like Big Books and We Cannot Lie
Flashlight Readers
Lit Fit
Loosely Bound
---
Mixed Company
Chicks and a Rooster
---
Moms R Us
Mommy's Time Out Book Club
---
There's a Story There…
Books with Skin Deep Jules
Bookshelf  à la Binx
---
Double Fisting It
Beers & Books
Burgers & Books