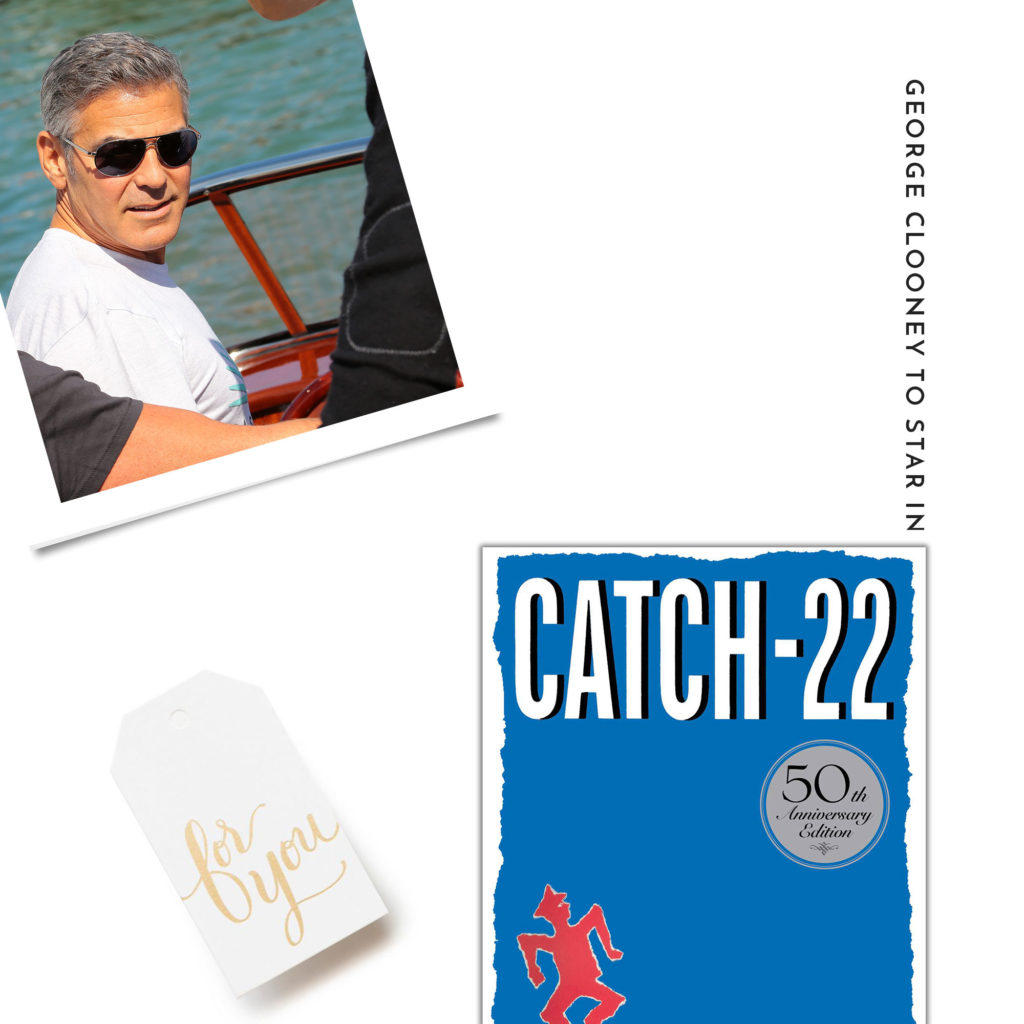 George Clooney will star in and direct a limited series based on Catch-22, according to Variety.    The six-part limited series will air on Hulu.  Clooney will co-direct with his production partner Grant Heslov and the two will executive produce the series under their Smokehouse Pictures banner.  (So when you see Smokehouse Pictures come on the screen in the opening credits of the film, you'll now be able to say ("Oh, that's George Clooney's Production Company" and impress everyone within earshot.)
Clooney was originally supposed to play Colonel Cathcart, but in April Kyle Chandler was selected to play the lead role.  (You remember Kyle Chandler as the coach in the TV series "Friday Night Lights".)  Clooney will now play Scheisskopf, the training commander at Yossarian's cadet school.  Hugh Laurie ("House") will play Major de Coverley, a squadron executive officer regarded with awe by the men. "He spends his time pitching horseshoes, listening to jazz on his phonograph, mixing himself martinis, and hiring apartments for the officers in every new city the Americans take,"  according to Variety. 
---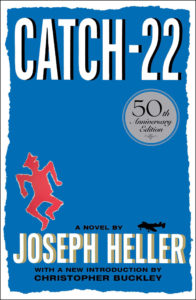 "Catch-22 is the only war novel I've ever read that makes any sense." —Harper Lee
"One of the most bitterly funny works in the language . . . Explosive, bitter, subversive, brilliant." —The New Republic
"To my mind, there have been two great American novels in the past fifty years. Catch-22 is one." —Stephen King, Entertainment Weekly
"This novel is not merely the best American novel to come out of World War II, it is the best American novel that has come out of anywhere in years." —Nelson Algren, The Nation
"It's the rock and roll of novels . . . There's no book like it. . . . Surprisingly powerful." —Norman Mailer, Esquire
"One of the greatest anti-war books ever written." —Vanity Fair
This fiftieth-anniversary edition commemorates Joseph Heller's masterpiece with a new introduction; critical essays and reviews by Norman Mailer, Alfred Kazin, Anthony Burgess, and others; rare papers and photos; and much more.
Nominated as one of America's best-loved novels by PBS's The Great American Read.
Fifty years after its original publication, Catch-22 remains a cornerstone of American literature and one of the funniest—and most celebrated—books of all time. In recent years it has been named to "best novels" lists by Time, Newsweek, the Modern Library, and the London Observer. 
Set in Italy during World War II, this is the story of the incomparable, malingering bombardier, Yossarian, a hero who is furious because thousands of people he has never met are trying to kill him. But his real problem is not the enemy—it is his own army, which keeps increasing the number of missions the men must fly to complete their service. Yet if Yossarian makes any attempt to excuse himself from the perilous missions he's assigned, he'll be in violation of Catch-22, a hilariously sinister bureaucratic rule: a man is considered insane if he willingly continues to fly dangerous combat missions, but if he makes a formal request to be removed from duty, he is proven sane and therefore ineligible to be relieved. 
This fiftieth-anniversary edition commemorates Joseph Heller's masterpiece with a new introduction by Christopher Buckley; a wealth of critical essays and reviews by Norman Mailer, Alfred Kazin, Anthony Burgess, and others; rare papers and photos from Joseph Heller's personal archive; and much more. Here, at last, is the definitive edition of a classic of world literature.
---
---
The series started shooting in Italy, on the island of Sardinia, in July but had to stop briefly after Clooney was hit by an Italian motorist while riding his motor scooter.  
Hang on–George Clooney was hit by a car?!  Where?!
According to local press reports, Clooney was riding his motor scooter on the way to the set, which was located near Costa Corallina ("the coral coast") in the Sardinian province of Olbia.
The Corriere della Sera newspaper describes a quite harrowing account of the July 10 accident that starts with a bump at a bend in the road.  Clooney hit the bump and then hit the hood of the oncoming car, was thrown six feet in the air, and landed on his head (wearing a helmet, thank god.)  His bodyguards soon arrived on the scene as well as an ambulance that fitted him with a protective collar and transported him to the Giovanni XXIII hospital where he arrived complaining of head pain.  His personal physician arrived soon after.  After a CAT scan and ultrasound, serious injury was ruled out and he was discharged with a mild concussion.  Doctors estimated he would make a full recovery in 20 days.
Abandoned World War II Airbase Restored to Its Former Glory for the Film
The Vena Fiorita airport, originally an airbase during World War II then  rediscovered in the late 1950s by Aga Khan Karim when he created the airline company Alisarda, but abandoned since 1998. It has been restored to its former World War II glory for the film in order to become the Pianosa air base in the novel.
Subscribe to our Books to Movies newsletter for updates on this story, sneak previews and release dates.