Awards season has officially crossed the pond with today's announcement of the 10 longlisted novels nominated for the National Book Award.
Save the Date
October 4th–The finalists will be announced
November 14th–National Book Awards Finalists Reading (which will be livestreamed)
November 15th–The winners will be announced at the National Book Awards gala –which will also be livestreamed–which means:  you & yours can make a night of it!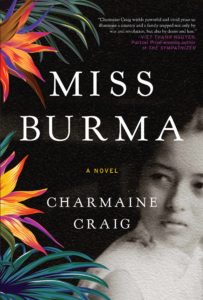 Miss Burma
by Charmaine Craig
A beautiful and poignant story of one family during the most violent and turbulent years of world history, Miss Burma is a powerful novel of love and war, colonialism and ethnicity, and the ties of blood.
by Jennifer Egan
The daring and magnificent novel from the Pulitzer Prize–winning author of A Visit from the Goon Squad—"propulsive, surprising, ravishing, and revelatory…a profound page-turner that will transport and transform every reader."—Booklist (starred review)

by Lisa Ko
"There was a time I would have called Lisa Ko's novel beautifully written, ambitious, and moving, and all of that is true, but it's more than that now: if you want to understand a forgotten and essential part of the world we live in, The Leavers
 is required reading." —Ann Patchett,  author of Commonwealth
by Elliot Ackerman
"Transports readers into a world few Americans know" —Washington Post
"Promises to be one of the most essential books of 2017" —Esquire
A timely new novel of stunning humanity and tension: a contemporary love story set on the Turkish border with Syria.
by Daniel Alarcon
A slyly political collection of stories about immigration, broken dreams, Los Angeles gang members, Latin American families, and other tales of high stakes journeys, from the award-winning author of War by Candlelight and At Night We Walk in Circles.
by Min Jin Lee
Roxane Gay's Favorite Book of 2017, Washington Post
National Bestseller
In this bestselling, page-turning saga, four generations of a poor Korean immigrant family fight to control their destiny in 20th-century Japan, exiled from a home they never knew.
by Carmen Maria Machado
"Carmen Maria Machado has managed to have readers, critics and everyone in-between sitting on the edge of their seats for the chance to read her debut story collection. . . . Part science fiction, part fantasy and all fun, Machado's stories deal with the sometimes unbelievable reality of being a woman in a way you won't see coming; in a way that is entirely her own."―NBC Today Show
by Margaret Wilkerson Sexton
A New York Times Book Review Editor's Choice
Chosen as 1 of 12 books to read this August by the Chicago Review of Books
Chosen as 1 of 24 Incredible Books to Add to Your Shelf This Summer by the Huffington Post
Chosen as 1 of 10 Books to Read in August by BBC Culture 
"This luminous and assured first novel shines an unflinching, compassionate light on three generations of a black family in New Orleans, emphasizing endurance more than damage." —The New York Times Book Review, Editors' Choice 
by Jesmyn Ward
A searing and profound Southern odyssey by National Book Award winner Jesmyn Ward.
In Jesmyn Ward's first novel since her National Book Award–winning Salvage the Bones, this singular American writer brings the archetypal road novel into rural twenty-first-century America. Drawing on Morrison and Faulkner, The Odyssey and the Old Testament, Ward gives us an epochal story, a journey through Mississippi's past and present that is both an intimate portrait of a family and an epic tale of hope and struggle. Ward is a major American writer, multiply awarded and universally lauded, and in Sing, Unburied, Sing she is at the height of her powers.
Winner of the AWP Award for the Novel
"Barren Island is a wonderful synthesis of character and history. From the moment Marta Eisenstein Lane begins to tell us about her remarkable family's lives on the rank, forsaken sand bar of Barren Shoal, rendering animal carcasses into glue, the author immerses us in a world most readers would never otherwise have known existed. As squalid and hardscrabble as these lives maybe, they are also suffused with strange beauty and love by Marta's solicitude and honesty. Barren Island is bighearted, generous, and fascinating."– PAUL HARDING, author of Tinkers and Enon. Winner of the Pulitzer Prize for Fiction, the Fernanda Pivano Award for American Literature, and the PEN/Robert W. Bingham Prize