Reese Witherspoon has selected her August book club pick and it is one of the most anticipated books of 2018.
"A delicious Los Angeles noir that combines the glitz and glamor of fine art with the grit and grime of crime and sexual objectification, Still Lives
 is a thought-provoking novel packaged in one hell of a mystery." ―The Daily Beast, One of The Best Summer Beach Reads of 2018 
"Maria Hummel's novel is classic noir made modern." ―Refinery29, One of the Best Books of June 2018 
Here's what Reese says:
---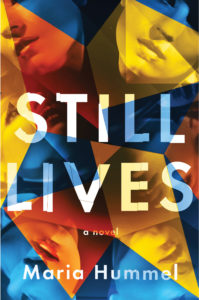 A REESE'S BOOK CLUB x HELLO SUNSHINE Selection
A BOOK OF THE MONTH Selection
1 of 22 New Books to Read This Summer (TIME)
1 of 20 New Books to Read in June (Entertainment Weekly)
1 of 30 Exciting New Books to Add to Your Summer Reading List (Buzzfeed)
Kim Lord is an avant-garde figure, feminist icon, and agent provocateur in the L.A. art scene. Her groundbreaking new exhibition Still Lives
 is comprised of self-portraits depicting herself as famous, murdered women—the Black Dahlia, Chandra Levy, Nicole Brown Simpson, among many others—and the works are as compelling as they are disturbing, implicating a culture that is too accustomed to violence against women. 
As the city's richest art patrons pour into the Rocque Museum's opening night, all the staff, including editor Maggie Richter, hope the event will be enough to save the historic institution's flailing finances. 
Except Kim Lord never shows up to her own gala. 
Fear mounts as the hours and days drag on and Lord remains missing. Suspicion falls on the up-and-coming gallerist Greg Shaw Ferguson, who happens to be Maggie's ex. A rogue's gallery of eccentric art world figures could also have motive for the act, and as Maggie gets drawn into her own investigation of Lord's disappearance, she'll come to suspect all of those closest to her. 
Set against a culture that often fetishizes violence, Still Lives
 is a page-turning exodus into the art world's hall of mirrors, and one woman's journey into the belly of an industry flooded with money and secrets. 
"A suspenseful, splashy story about fame, sex, and how our culture views women's bodies . . . I also loved that it tackled the sticky subject of how women are portrayed in art, culture, and the media—and the consequences of those portrayals. This is a thrilling book, and a much-needed one. Read it and you'll see what I mean." —Book of the Month
---
A May BOOK OF THE MONTH Selection
1 of 22 New Books to Read This Summer (TIME)
1 of 20 New Books to Read in June (Entertainment Weekly)
1 of 30 Exciting New Books to Add to Your Summer Reading List (Buzzfeed)
1 of 9 New Books to Read this Month (The Guardian)
1 of 10 Books to Read in June (BBC Culture)
1 of the Best Summer Beach Reads of 2018 (The Daily Beast)
1 of 10 Crime Books to Read in June (CrimeReads)
1 of the Best Books of June 2018 (Refinery29)
1 of 25 New Thrillers You Need to Have on Your Radar This Summer (PopSugar)
1 of 9 Books We Can't Wait to Read in June (PureWow)
1 of 15 Books Coming Out…That You Don't Want to Miss (HelloGiggles)
A Best New Book of June (Chicago Review of Books)
1 of 22 Books You Must Get Your Hands on this June (Women.com)
1 of 50 New Book Suggestions to Wow Your Book Club (PopSugar)
1 of My Top 5 Most Anticipated Reads of 2018 (PatienceRandle.com)
1 of 20 Favorite Reads of June 2018 (Read It Forward)
1 of Summer's Most Anticipated Crime, Mystery, and Thrillers (CrimeReads)
A Perfect Book to Help You While Away the Lazy, Hazy Days of Summer (Watertown Daily Times)
Read of the Week (Mag The Weekly)
Praise for Still Lives
"[A] mysterious page turner." ―TIME, 1 of 22 New Books to Read This Summer
"Mystery and murder cloud this feminist story set in the heart of Los Angeles' art scene. When an avant-garde artist goes missing on the day her groundbreaking exhibition opens, the story spins out in many provocative directions." ―Entertainment Weekly, 1 of 20 New Books to Read in June 
"A suspenseful, splashy story about fame, sex, and how our culture views women's bodies . . . I also loved that it tackled the sticky subject of how women are portrayed in art, culture, and the media―and the consequences of those portrayals. This is a thrilling book, and a much-needed one. Read it and you'll see what I mean." ―Book of the Month, May 2018 selection 
"[A] splendid art-world thriller . . . Ms. Hummel captures characters in a single stroke . . . Having herself worked in a museum, she speaks with authority of that sealed world . . . Still Lives
 is both savvy and lyrical―the perfect beach read for either coast." ―The Wall Street Journal
"Maria Hummel's Still Lives
 is moody and restless, propelled by a gradually intensifying sense of unease. Hummel envelops the reader in the LA art scene… [H]er journey illuminates the misogyny which allows a culture to turn murdered women into objects for consumption." ―Buzzfeed, 1 of 30 Exciting New Books to Add to your Summer Reading List 
"Hummel's fourth novel shows her genius for layering levels of meaning, and her sophisticated sense of the mercurial, sometimes corrupt art world, from dealers to wealthy patrons, including those so secretive they want to purchase work (and drive up an artist's worth) without leaving a trail . . . Maggie's stake in this story makes for unrelenting suspense." ―BBC Culture, 1 of 10 Books to Read in June 
"A delicious Los Angeles noir that combines the glitz and glamor of fine art with the grit and grime of crime and sexual objectification, Still Lives is a thought-provoking novel packaged in one hell of a mystery." ―The Daily Beast, One of The Best Summer Beach Reads of 2018 
"Maria Hummel's novel is classic noir made modern." ―Refinery29, One of the Best Books of June 2018 
"Still Lives [is] the fast-paced feminist thriller about the L.A. art world you don't want to miss this summer . . . Still Lives is at once a gripping and entertaining mystery, and a biting cultural critique that seeks to understand our obsession with the violent deaths of beautiful women . . . Reading Still Lives is like being frozen in that feeling of fear, like being stuck in that moment right before the mysterious stranger lurches out from the darkened alley to grab you . . . Still Lives doesn't just ask why we are obsessed with female murder victims. It also asks how: how we interpret violence against women, how we consume and commodify it, and how use it as tool of oppression . . . Still Lives is a electrifying mystery, one that crackles with suspense and intrigue. But it is not just an exploration of the shady underside of the L.A. art scene, or a warning about the dangerous combination of fame, money, and sex, and it is certainly not just a titillating tale about a missing woman. Like the fictional exhibit it was named after, Still Lives is an indictment of how women's bodies are treated by a society that is determined to control and consume them, and it's so much more than a story. Because when it comes to fear, anxiety, violence, and abuse, as Maggie puts it, 'It's not a story to us,' it's an experience we face every day." ―Bustle
"While Still Lives is a deeply affecting examination of how our culture fetishizes female victims of crime―be it in art, news, or publishing―it will also have readers feverishly turning pages to discover the fate of engaging characters who are more than symbols of what's wrong or right about Los Angeles. It's a stunning achievement for a writer who perfectly captures an outsider's ambivalence about the city's pluses and minuses, and most notably its sensational crimes and the dark angels we make of its victims." ―Los Angeles Times
---
---
See The Reese Witherspoon Collection in the Shop: